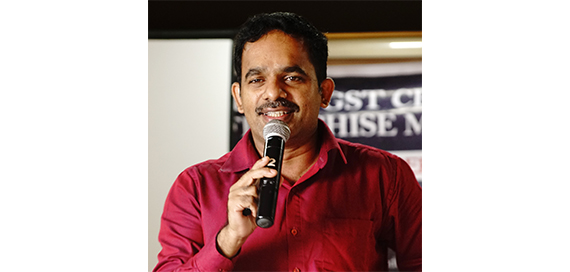 Postal Address:
# 44, Angamaly Central Nagar ,Near East Church, Angamaly ,
Ernakulam District ,Kerala – 683 572
Email:
naisonlouis@gstcentre.in
About CA. Naison Louis
He is a Trainer for leading Corporates and Educational Institutions. With a vast knowledge in professional practice, he is instrumental in developing a practical oriented curriculum and study materials for learners. He devotes his time for teaching, authoring books, developing video tutorials and solving doubts of his students.
His aim is always to make the weak student a skilled, expert and highly proficient.
Teaching
Simplified delivery of difficult concepts.
Master in Case Studies and Examples.
Innovative Ideas for better learning.
Author for best books in GST.
Personal
Dedicated Teacher making his classroom best for all.
Mentor and Career Guide for Students.
Qualified Chartered Accountant (2003 Batch).
Founder and Director of GST CENTRE ® and TEACH GROUP.
Leading Trainer for GST – Covered more than 100 GST Workshops across India.
Author of Books in GST, Income Tax and GCC VAT.
Faculty at Leading Educational Institutions, Corporates and
Training Programmes on behalf of NIIT and TCS for Income Tax Officials.
Certified Assessor for Confederation of Indian Industry for various Skill
Development Programmes implemented by State Govt. & Central Govt.
Founder President – The Association of GST Professionals, India.
President NEST – Navodaya Educational & Social Trust.